Z- Archived 2015 Kinetic Cup Shootout Page for Reference
Qualifying Rounds


In Progress

16 Finalists Locked Down


Oct. 27 @ 6:00 PM

The Final Shootout


Oct. 29 @ 3:00 PM

Champion Crowned


Oct. 29 @ 6:00 PM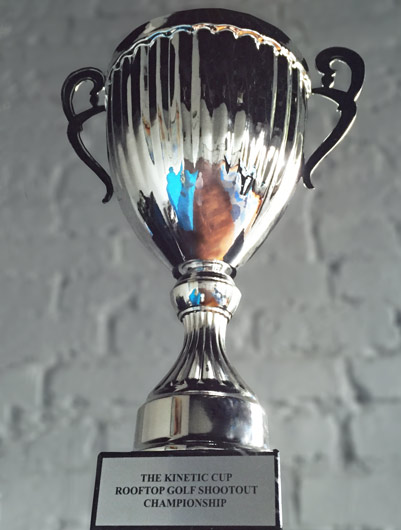 The 2015 Kinetic rooftop golf shootout is in the books! [golf clap]
We're pleased to invite clients, partners, colleagues, and friends of Kinetic to stop by our office, hit the rooftop green, and notch a score for the inaugural Kinetic cup tournament. Yes, we said rooftop! If you haven't been to our crazy eclectic space, we actually have an outdoor rooftop golf range. Don't believe it? Take a tour.
No matter your golf skill level (we're only hitting wiffle balls after all), we invite you to drop by and log a score – or improve on your past rounds. There's no limit to your qualifying rounds (you know who you are), so come by as often as you like. After all, the elusive 10 point shot is still out there. Bring your own wedges (or use ours) and log your best round, following the rooftop rules, of course. The top 16 finalists will be locked down on Tuesday, Oct. 27th at 6 pm. These lucky players will duke it out in the finals on Thursday, Oct. 29th, starting at 3 pm, and we'll crown our inaugural winner around 6 pm. If weather proves rainy on the 29th, our rain date will be the following Thursday, Nov. 5th.
Whether or not you make the final bracket, you're welcome to join us for a beverage or two and heckle your favorite qualifier on the 29th. We expect the final groups to be in full swing just after 5:00 pm on the 29th. No RSVP needed.

Fine Print Player Details: Qualifiers will be the top sixteen finalists (including ties). Qualifiers are welcome to warm up as much as they like on or before tournament day. During the final shootout, players will be allowed an optional five (5) ball warm-up before each match-up. We'll have a simple 18-ball (e.g. single round) shootout for the first two rounds. We'll then move to a "best of 3" 18-ball round scoring system. The evolving bracket and the individual match-up scores will be featured on screens throughout the office during the tournament and an Ivor Robson-inspired starter will keep pace for all.